Landscape lighting adds beauty, safety, and function to your yard. It can highlight important features like deck stairs and help prevent accidents from falling or tripping in the dark.
Uplighting, downlighting, silhouetting, and shadowing are all specific landscape lighting techniques that can be used to enhance your garden truly. Visit https://orlandolandscapelighting.net/ to learn more.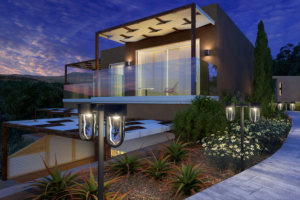 Uplighting involves placing lighting fixtures in the ground below what you're trying to illuminate. This lighting technique highlights the shape, color, and form of interesting features on your property. This includes things like beautiful trees that have unique bark, branch structure, or delicate leaves, as well as architectural columns and garden features. For example, uplighting a fountain or statue with a beam of light automatically adds drama to your landscape at night.
To uplight something in your yard, you'll need to choose the right fixture and bulb type. LEDs are the current standard for landscape lighting due to their lower operating costs, longevity, and ability to offer more control than traditional incandescent bulbs. You'll also want to select a light with the correct color temperature for the objects you're uplighting. Warmer bulbs (like those found on oak trees and brown siding) work best with natural or rustic elements, while cool white bulbs (4000-5000K) play better with more contemporary designs.
Spotlights and in-ground "well lights" are popular up-lighting fixtures in various sizes, shapes, and wattages. These fixtures can be placed in the ground or a hardscape element such as a retaining wall, patio, or walkway. Uplighting can be done using various techniques, including highlighting, silhouetting, shadowing, and grazing.
Downlighting is another landscaping technique that can enhance the beauty of your home's exterior. This type of lighting is often used to highlight low-level features on your property, such as plant beds, seating areas, or water features. This can help create a warm and inviting space for family and guests after the sun goes down.
The most important thing to remember about downlighting is that it's most effective when layered with uplighting. When both techniques are used together, they can complement each other and offer a balanced look to your landscape at night. This is why many homeowners choose to invest in both uplighting and downlighting for their outdoor spaces.
A gorgeous yard is a great way to add curb appeal and create a welcoming entrance to your home, whether you're entertaining guests or want to impress the neighbors. Landscape lighting helps illuminate these features at night, making them stand out and adding a cozy feel to your outdoor space. If you want a more subtle effect, consider "moonlighting." It's the technique of placing lights in trees so their shadows fall on other plants and structures around them, mimicking the effect of natural moonlight and giving your yard a warm glow.
Uplighting and downlighting are two different aspects of a complete landscape lighting design, but they work together to highlight your favorite features and create a unique effect. The main difference between these two lighting strategies is their direction; uplighting is a light that's mounted below something you want to highlight, while downlighting is a light that's placed high up, such as in the branches of a tree.
For example, a front entryway may use uplighting to highlight pillars or columns while downlighting underneath the house's eaves to make sure steps are visible to people walking at night. A gorgeous garden can use both techniques to highlight beautiful plants, as well as statues and other features that help bring the outdoors in.
As you look through our selection of landscape lights, remember that it's important to conceal the light source wherever possible. For instance, our LED landscape flood lights are designed to cast a bright, focused light on areas of your yard without revealing the fixture itself. We also have paths and well lights, perfect for illuminating walkways and helping you safely navigate your yard in the dark.
It's also a good idea to choose landscape lights that have adjustable lumen output so you can customize the brightness to your needs. These lights are great for highlighting specific plant types, statues, or other elements in your yard that you're particularly proud of, and they're also ideal for areas where you might need to improve visibility, such as around stairs or a walkway.
Silhouetting is a less common landscape lighting technique that can be very dramatic. This effect is used on plants and structures with distinct features like trees, sculptures, fountains, etc. It is accomplished by placing a lighting fixture behind and facing a specific object, then using light to highlight the silhouette of that feature against a backdrop of darkness. This type of landscape lighting can be especially eye-catching when used on a tall tree, garden statue, or topiary shrubs.
Many homeowners use this technique to create a romantic or mysterious ambiance in their yard at night. The lighting fixture can be hidden away to avoid glare from guests walking by, which is an important consideration for paths that may need to be lit so people don't get tripped over or create a trip hazard.
Grazing is another landscape lighting technique that highlights a textured surface, highlighting shadows and giving a sense of depth to your property at night. The lighting fixtures that can be used for this are typically spotlights, well lights, or in-ground floodlights.
This type of lighting is also very effective for highlighting a specific plant, such as a fern or other thick foliage. The lighting can be directed on the leaves or particular areas that you would like to be illuminated and can also be used on hardscape surfaces such as a patio, deck, walkways, or front or back steps.
You've probably noticed that luxury resort properties look amazing at night, and much of that has to do with various landscape lighting techniques. Working with a professional lighting designer will help you identify the areas on your property that need highlighting and the best landscape lighting styles. Please set up a free at-home demonstration with us to see what the different lighting options can do for your property here. You'll be amazed at the difference a little landscape lighting can make! Call today to learn more about our services.
If you've ever stood outside on a bright day or a moonlit night, you may have noticed the beautiful patterns of shadow and light around trees, plants, and other landscape features. These natural shadows set a well-designed landscaping plan apart from a generic one. And it's these shadowing and silhouetting techniques that professional lighting designers, like the team at Houston Lightscapes, use to elevate their clients' landscapes truly.
Up lighting, down lighting, and grazing are some of the more common landscape lighting methods used in this way, and these techniques create their unique effects. Uplighting effectively creates dramatic silhouettes of trees or other tall structures and can also be used to highlight decorative items like statuary, urns, pillars, walls, and other hardscape features. Downlighting is similar, but it's used to illuminate the details and textures of an area that you want to be highlighted without casting a stark contrast between dark and light. Grazing is an effective technique for showing off the rich texture of flat areas, such as the surfaces of unique brick or stone retaining walls. The grazing technique utilizes light to illuminate the base of an object, and it allows for attractive shadow patterns on the ground.
For the best results when using these techniques, it's important to have a good understanding of what your property looks like in the daylight. This will help you decide which landscape lights to install to achieve your desired effects. Working with a team of professionals will ensure you get the best possible results from your investment.
When you choose a landscape lighting company that specializes in these unique design techniques, you'll be able to bring your property to life at night and have the confidence that your landscape will be safe and inviting for friends and family members to enjoy. If you're ready to start creating your dream landscape, contact a professional lighting designer today. We look forward to meeting you!